Guide to Durango Mountain Biking: In-Town Trails
← return to introduction to Durango mountain biking
Horse Gulch
The Horse Gulch trail system offers great riding for all ability levels. Though it's just minutes from downtown Durango, the topography of the Horse Gulch area makes one feel like they could be miles from civilization. Much of Horse Gulch lacks shade so make sure to ride here in the morning or evening if visiting in the hot summer months.
For a great beginner ride or a warm-up for more difficult trails, check out the flowy and wide open Meadow Loop. For a slightly longer ride that maintains the same character, climb a bit higher to Stacey's Loop and link that into the Meadow Loop.
Climbing Mike's Trail and descending Cuchillo makes for a great intermediate ride offering a variety of terrain. Fast and flowing turns near the top of the trail link into more rocky and technical descending along a ridge lower down. Confident riders can really open up the speed once they reach the straightaways of the Meadow Loop at the bottom of this descent. Overall my personal favorite in Horse Gulch!
For advanced riders in search of more technical, rocky terrain, climbing Rocky Road to Raiders Ridge and then descending off the ridge via Snake Charmer will make for an engaging and fun ride. Slickrock rollers, rock berms, and chunky steeps characterize this descent.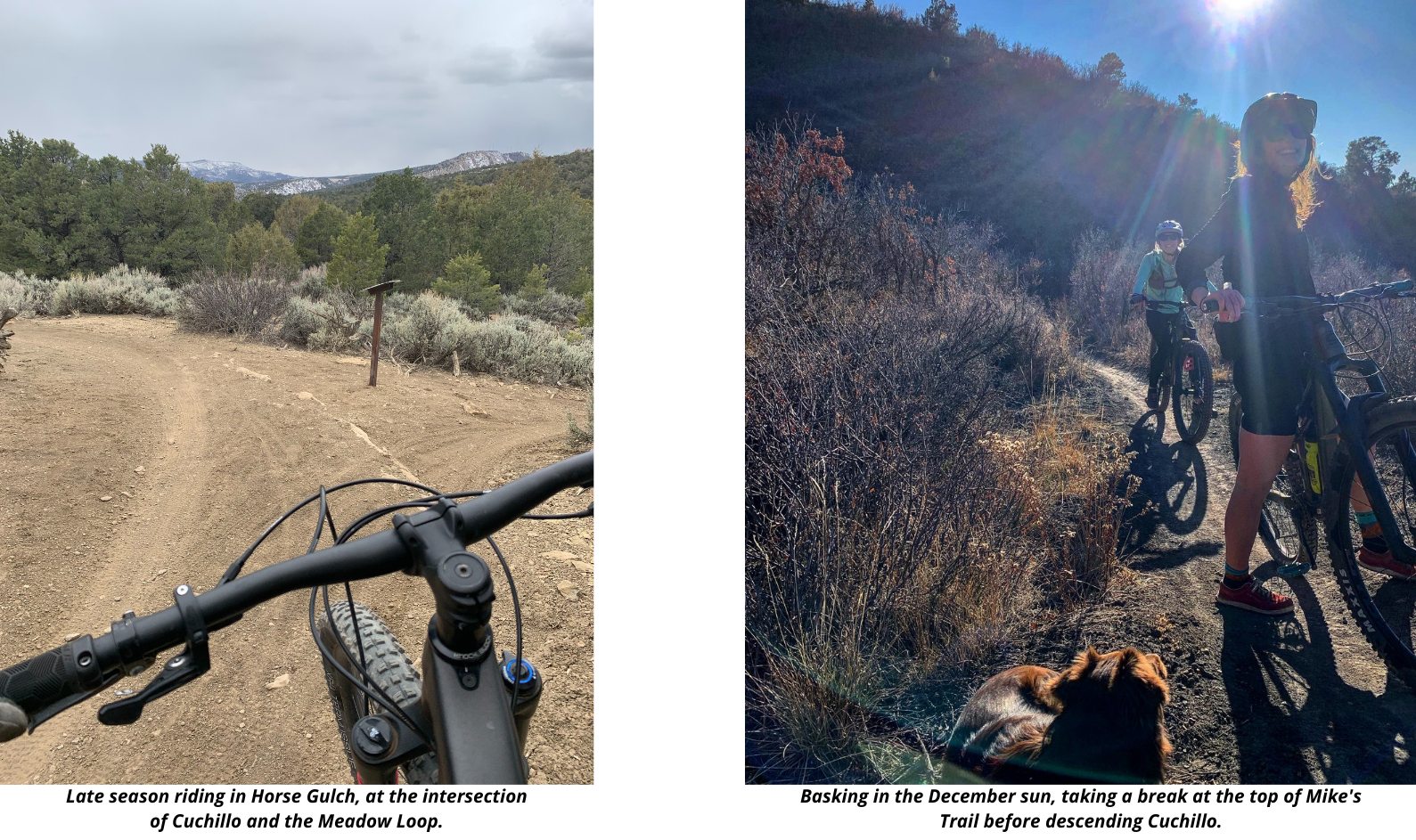 All of Horse Gulch is accessible from a trailhead on E 3rd St at the southeast corner of downtown Durango. Click here for directions to Horse Gulch.
Overend Mountain Park (Test Tracks)
Officially named Overend Mountain Park, this trail system is known to locals as "Test Tracks," referring to its history as a testing ground for new bikes and components by bicycle industry professionals since the 1980s. These trails wind through the hills and ridges on the west side of Durango in the shade of juniper, pine and oak trees, contrasting with the more desert-like feel of Horse Gulch. Fast, flowy, smooth surfaces, berms, and lots of optional jumps characterize this mountain bikers paradise. This is where I almost always get out for a quick ride before or after work!
Star Wars is one of the most classic trails in Durango. This is a fast, banked, and flowing downhill that will have riders hooting and hollering the whole way down. It has many line choices and is easily lappable, making it great for a fun evening ride with friends. To access Star Wars, climb the Hidden Valley trail, and then begin riding Graben's Loop counterclockwise. As the trail steepens, an intuitive right turn leads into Star Wars proper.
After descending Star Wars, climbing back up via 8 Bells brings riders to a ridge with great views of town, especially at sunset. From here, there are a multitude of great options to ride. 
Going straight down the ridge on Brown's Ridge is a great high speed descent, and includes many sizable gaps and jumpable rollers. All of these features are optional, however, so this trail can be ridden by riders of all abilities. 
Making a right turn off of Brown's Ridge and taking Ella Vita offers a longer downhill with more varied terrain, including fast and flowy sections, more technical switchbacks, and a wooden bridge across a gully. Turning right instead of left from the top of 8 Bells will bring riders to Spirit via Hogsfoot, which makes for a longer and more XC style ride with lots of ups and downs, switchbacks, and varied terrain.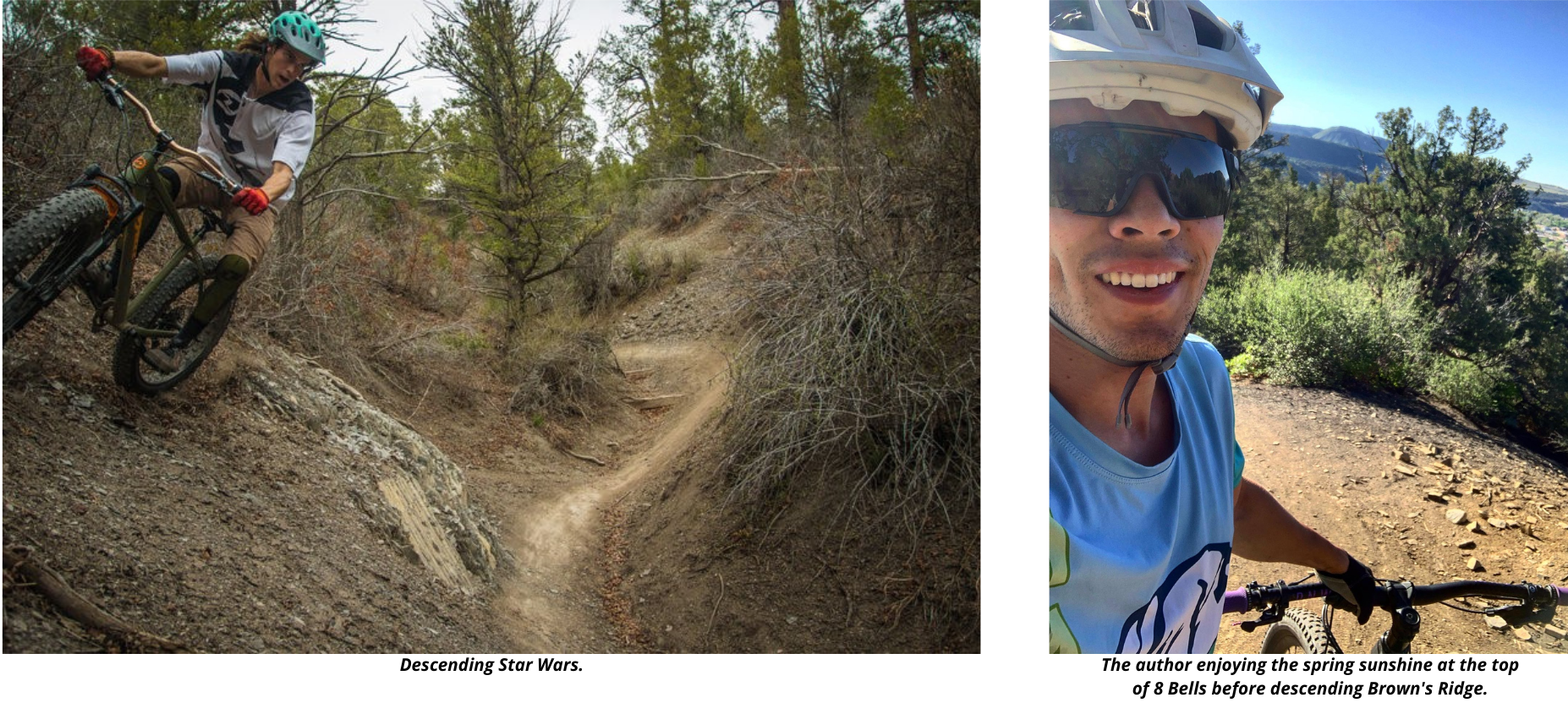 Another great option in Test Tracks is Skid Ridge. This trail can be accessed by climbing straight up from the Leyden Street trailhead or by making a right turn immediately following Star Wars. A sustained climb brings riders up the ridge below the Hogsback formation. From here, turn right and traverse the ridge with decent exposure to rider's left. After a short time the trail turns steeply downhill, with loose shale and several root drops characterizing this screaming descent. Make sure your brakes are working for this one!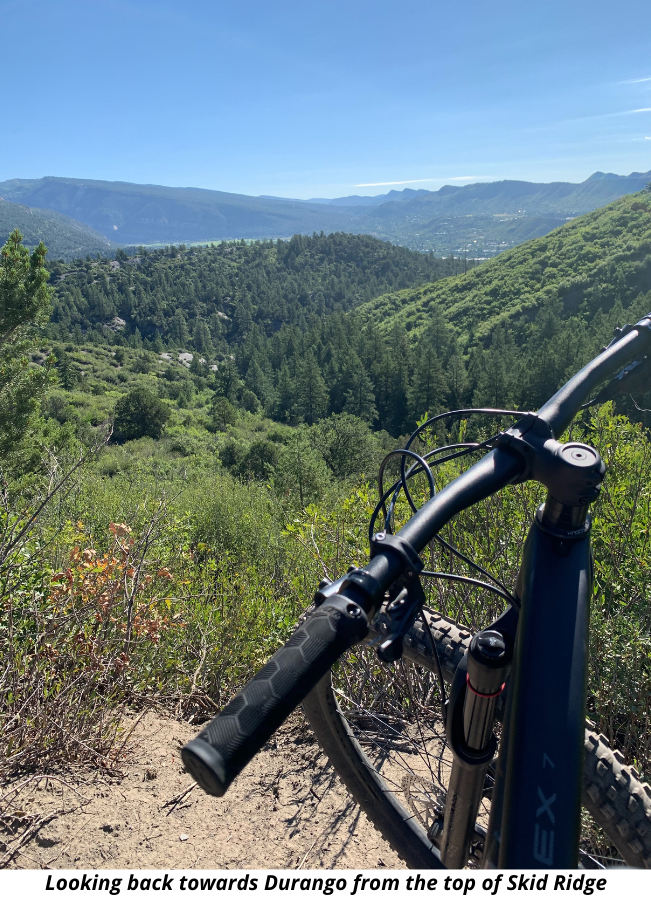 Test Tracks is accessible from several trailheads in neighborhoods on the west side of Durango. The most central trailhead with access to most trails is Leyden Street.